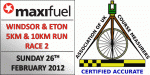 The Windsor & Eton Fun Run, based from Dorney Lake is the perfect venue for 5km and 10km road racing. 100% Accurate course and 100% traffic free.
These events are perfect for anyone looking to get fit or take part in their first event.
Very flat, smooth tarmac roads and paths.
The start point and […]