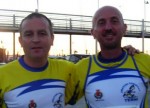 19 FEBBRAIO 2012
YOU'LL START FROM FERENTILLO IN VALNERINA VALLEY, ITALIA UMBRIA, YOU'LL RUN UNDER MARMORE FALL, AND ARRIVE IN TERNI, WHERE WAS BORN SAINT VALENTINE, YOU CAN VISIT HIS CHURCH.
42KM AND 21KM, VERY FAST RACE, START FROM 250HM ARRIVE TO 100 HM.
VISIT US SITE: WWW.MARATONADISANVALENTINO.IT
CHECK OUT HOTEL AT 16:00 PM.
THANKS […]